Clay in Conversation at Somerset House 16-09-22
Clay in Conversation - Body Sept 16th 2022
Hosted by Makerversity at Somerset House. Supported by Potclays
I was delighted to be invited by ceramicist Julia Lancaster to take part in her curated series of conversations between artists. I and my fellow participant Kim Pace gave presentations on our individual practice, and then we took questions from the audience. The conversation was chaired by Tessa Peters.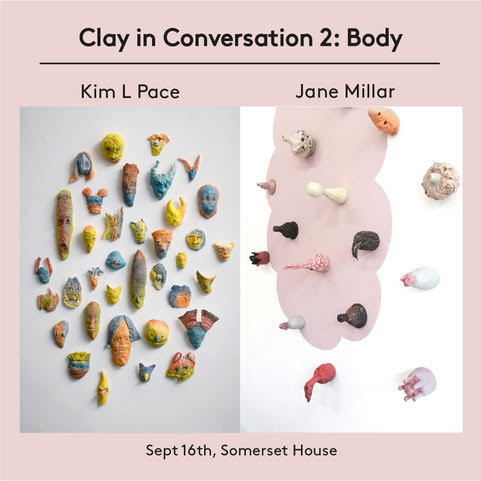 Clay in Conversation 2: Body is the second in a series of curated conversations, presenting artists working with clay and ceramics
The curated conversations provide a platform for presentation, dialogue and discovery, bringing together a diverse range of artists with a practice in clay and ceramics.
Each conversation centres on a specific theme - acting as a lens through which the artists will present a single piece of work or project. The conversations offer the opportunity to dig deeper into a single work, exploring it formally, materially and conceptually, from the perspective of the artists themselves.
For Clay in Conversation Millar will present 'Pacify', one of an ongoing series of installations involving wall painting and ceramic works, commissioned for the exhibition 'In (Matters of Soul'), ASC Gallery, November 2021. While making peculiar 'unlocatable' ceramic objects, usually wall based, Millar puts them into a context of a pedagogical structure, in this case transient wall painted shapes, referencing museum infographics from Natural History displays, which contextualises the slow life of ceramic sculptures.
Kim L Pace's chosen works are from her solo show 'Kindred', 2022 at Arusha Gallery, Edinburgh. 'Kindred' explored kinship, especially entanglements between the human & non-human. Pace's practice focuses on the creation of ceramic sculpture in installation; describing an increasingly immersive world, populated by uncanny characters.